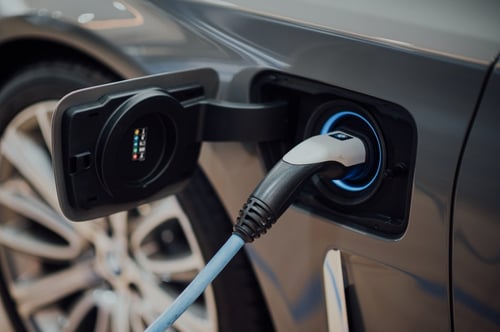 Ownership of electric and hybrid motor vehicles is becoming noticeably more accessible, thanks to technological advances and price reductions. This greener type of motoring has steadily become more visible over the last few years; in May 2019, there were 12,000 EV (electric vehicle) public charging points in the UK. According to Auto Express, this remarkable figure was fivefold that of just eight years before, in 2011. Below, with motorists who own EVs (or plan to acquire one) in mind, we consider the cost of charging an EV and how it compares to refuelling petrol and diesel cars.

Where To Charge Your Electric Vehicle
While some EV owners have the option to charge their vehicle off-street at home if their property has a suitable charging point installed, other motorists reply on charge points at work, in supermarket car parks or by using public facilities. Particularly in central southern English counties, the number of electric vehicle (EV) public charge points and their coverage has grown quite rapidly, enabling motorists to top up their vehicle batteries at convenient intervals while parked.
Additionally, some employers offer free charging as a staff incentive, either with set periods of free time or with a time-based tariff to encourage sharing. Similarly, in some locations, supermarket car parks offer limited free charging (subject to availability) during their characteristically short parking periods, although calibration and precise delivery of advertised power capacities may be an issue at times.

Why Costs Vary
Recharging costs in private properties such as homes and workplaces will vary depending on the supplier, tariff, vehicle model and how much charge is required. Based on a domestic electricity price of 14p per unit (i.e. KW/h, summer 2018 costs), and using a home charging point with an adequate power capacity, it costs approximately £7.80 to fully charge an electric car with a 60 Kilowatt/hour battery and a range of 200 miles.
However, as most cars seldom reach total battery discharge, top-up charges are the norm. For instance, using a public 7 KW/h fast charger for thirty minutes could cost as little as £2.00 to deliver a 10% top-up. On motorways, charging points usually cost around £6.50 for speedy top-ups that take around thirty minutes and are sufficient to continue for a further 100 miles or so.

How Electric Car Models Compare
Logically, as we have seen above, the car model and its battery size directly influence the total charging cost and, therefore, the equivalent cost per mile when divided by the typical range.
Significantly, in realistic motoring conditions, the maximum distance might differ from advertised ranges and simulated driving cycles. Car Magazine and Parkers Guide have combined forces to check the operating costs of popular EVs in a realistic 66-mile commute, comprising two thirty-three mile journeys.
The results were:
Nissan Leaf: 4.0p per mile, £2.64 total.
Renault Zoe: 6.1p per mile, £4.03 total.
VW Golf GT: 11.5p per mile, £7.66 total.
Toyota CHR Hybrid: 13.4p per mile, £8.84 total.
Notably, cold weather and individual driving styles also influence vehicle operating costs.

Find Out More
To discover more about offering an electric vehicle charging facility for your users, we invite you to contact us today. Based in Oxfordshire and serving customers throughout the UK, we offer broad experience in electrical safety, design and power distribution networks, including EV charger points in commercial and residential buildings.