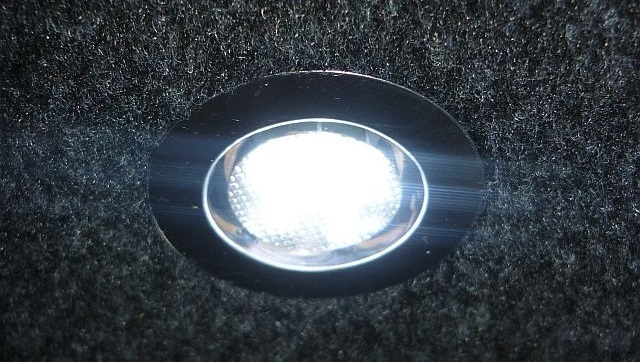 While LED lighting isn't strictly a legal requirement, a string of important government documents published over the past 20 years has increasingly tightened the performance criteria for lights used in public buildings. Lighting requirements are designed to phase out inefficient types of lighting rather than select positively for one alternative or another. It just happens that LED lights are currently the most affordable and energy efficient alternative to incandescent and fluorescent lighting.
Illumination Standards
All new residential developments in the UK must include at least 75% low-energy lighting, defined as lights that produce over 400 lm at an efficiency of 45 lm per watt of power output. LED lights certainly fall into this category, which is why they are such a popular way of fulfilling legal compliance.
For nondomestic buildings, including offices, hospitals, libraries, churches and museums, the efficiency demands are even higher. The lighting architecture should demonstrate an average overall efficiency of at least 55 lm per watt. This puts pressure on organisations to sustain low-energy lighting around their building, as even a handful of inefficient lights in a basement or store room has the potential to reduce the overall efficiency of a building to below the legal standard.
Sources Of Lighting Requirements
Energy efficiency and lighting regulations have come from both the EU and the UK government since 1997, with a number of authoritative guides being published by the Society of Light & Lighting (SLL) These regulations are far-reaching and serve to restrict the use of low efficiency lightbulbs, while providing recommended illumination levels and risk management categories for offices, hospitals, educational organisations and other public buildings.
The most important guidance documents include:
HSG 38: Lighting at Work (1997)
Building Regulations Part L2A & L2B (England & Wales) (2013)
Scottish Building Standards Technical Handbook (Scotland) (2013)
SLL Lighting Handbook (2009)
SLL Lighting Guides Series: Hospitals & Healthcare (2008), Education (2011), Offices (2016)
SLL Surface Reflectance & Colour Guide (2001)
SLL Emergency Lighting Design Guide (2004)
SLL Guide to Limiting Obtrusive Light (2012)
SLL Code for Lighting (2012)
For a professional involved in lighting design, these are considered must read titles.
Just surveying the titles of these guides gives an indication about the scope of factors that lighting designers need to take into account. Of these documents, the SLL Code For Lighting is perhaps the most definitive, as it embraces all the technical factors of lighting architecture in nondomestic buildings.
The individual guidebooks for different types of building are also useful. Even so, there are thousands of pages of material here. It isn't feasible for a building manager to absorb the minutiae of all the different lighting regulations – this simply aren't enough hours in the day – although you are still expected to comply with them.
Professional Guidance & Compliance Advice
This is why it is useful to have an expert electrical contractor on your side such as ourselves. We are fully aware of the regulations and how they affect LED upgrades and the way lighting design has to incorporate certain guiding principles. Key factors in lighting design are energy efficiency, health and safety (including emergency lighting), sustaining an appropriate and healthy level of light for all users, and making the fullest use of daylight.
These factors embrace far more than the physical lighting infrastructure, which is why at Lowe and Oliver we place great importance on working closely with other stakeholders in a renovation, including architects and building contractors. By doing so we can ensure the most efficient and cost-effective solution; one that is compliant with current and future lighting regulations.
Download Our FREE EBook
To find out more about LED lighting upgrades, please download Why Upgrade To LED Lighting; our new free e-book that explains the benefits of LED lighting, legal requirements, design considerations and much more. Click here to claim your copy.